AUGUST 24, 2023 — The University of Texas System Board of Regents recently approved an update to the funding for the San Pedro II development project, previously approved in November 2022.
The UT System follows a prescribed funding and approval process for major building projects. With this latest step in the process, the San Pedro II project is now able to move from the design development phase to the construction phase.
Overland Partners, in collaboration with Gensler, is leading the design vision and development of the project. Teams will now begin preparing the site for construction, with an official groundbreaking scheduled for early 2024.
"I'm immensely grateful for the support of UT System's Board of Regents and their approval of additional funding to further expand our downtown footprint with San Pedro II, advancing experiential learning opportunities for our students and enhancing the talent pipeline for San Antonio and Texas," said UTSA President Taylor Eighmy. "UTSA leads the future with our clear focus on immersive, hands-on learning experiences for our students to further drive talent development for our city and region."
Seamlessly integrated into UTSA's Downtown Campus expansion, San Pedro II will work in tandem with academic programs and research collaborations in cybersecurity and data science offered by the School of Data Science and National Security Collaboration Center in San Pedro I, which opened in January 2023 and is located across San Pedro Creek.
---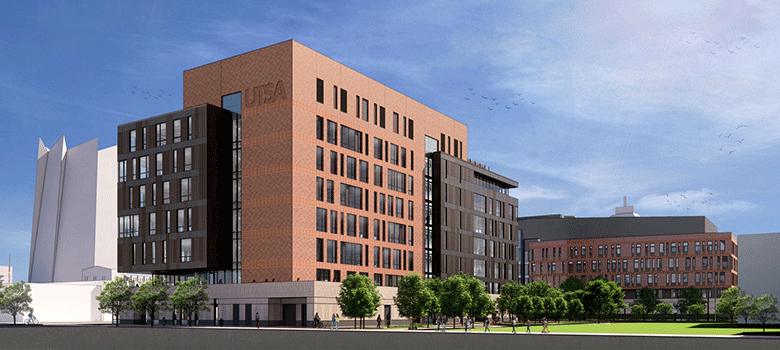 ---
"San Pedro II is an important milestone in actualizing UTSA's downtown vision."
---
Like San Pedro I, UTSA's first LEED certified building, San Pedro II will follow a design guided by stewardship and sustainability. Additionally, the design of both buildings reflects UTSA's commitment to the design, construction and operation of sustainable environments to create the best learning spaces for students, faculty, and staff.
The two buildings are part of larger placemaking efforts to revitalize this historic area of downtown, which includes the recent redevelopment of the San Pedro Creek Culture Park and the future Continental Hotel revitalization. San Pedro I and II will connect classrooms and meeting spaces inside with the outdoor venues and public art of the park, creating an ecosystem that supports students and the community.
"San Pedro II is an important milestone in actualizing UTSA's downtown vision," said UTSA Senior Vice President for Business Affairs and Chief Enterprise Development Officer Veronica Salazar. "We are working to create meaningful connections between the university, downtown industry, and cultural destinations that will benefit UTSA students by enhancing experiential learning opportunities."
The new building is supported by investments of $52,409,972 from State of Texas Tuition Revenue Bond proceeds and $72,000,000 from University of Texas System Permanent University Fund bond proceeds. The BOR approved additional funding in the amount of $6,500,000 from Revenue Financing System Bonds, bringing the project total to $130,909,972. The increase in the total project cost is due to rising construction costs nationally.
Read the full article in UTSA Today.